About
Contest Description
Until October 29th you can post ideas on either of two topics:
a) How to motivate more companies/individuals to buy a .hiv domain and use it?
b) How to make people aware of .hiv websites and thereby provoke more traffic on them?
T
he concept of .hiv domains is totally new. At the same time, it bears enormous potential to raise new funds and awareness for the response to HIV and AIDS. For this reason, we need YOU to help establish the idea worldwide.
About dotHIV
.hiv is the first and only domain ending with a social cause – the fight against AIDS. Every click on a .hiv domain triggers a micro donation, supporting HIV and AIDS projects all around the world. Our video explains the idea in 111 seconds. This makes visiting .hiv websites an easy way of doing good while surfing the Internet. Companies can use them as a second entry door to their standard homepage: For example: Visiting xyz.hiv will result in the same website as xyz.com. A better entry door, since using it means doing something good. The money for these donations stems from the registration fees for the .hiv domains which start at only 13€ per month. The more .hiv websites are sold, the more money there is to save lives. For companies, a .hiv domain is like the digital version of the Red AIDS Ribbon: wearing it shows that they care and support the good cause. Find out more about "the good click" and dotHIVs micro donation programme at:
click4life.hiv
Detailed Process
Feel free to decide whether or not to contribute on both topics or if you rather stick to one. Also, there is a prize for the "Most Valuable Participant" who participates actively by submitting ideas, evaluates other ideas, as well as likes and discusses the contributions of others and thereby gives good input.
The best ideas should be creative, effective and match dotHIV's
mission statement
.
This means that they are either easy to implement, with low costs involved and a do-it-yourself approach; or – if expensive – with a really wide reach. Have in mind, that these should be practical ideas, that may be realized by dotHIV or even better: by yourself.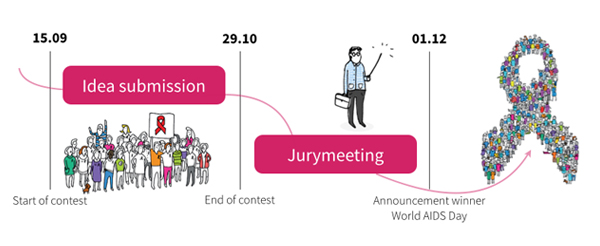 Here are some examples of ideas:
Do you know someone who works for a newspaper or is a blogger? Why not ask if he can write about .hiv Domains? Is your dad CEO of a company? Why not tell him about .hiv and which companies already have domains? Maybe he will consider buying a domain. You like guerilla marketing? Go ahead and spam your city. You know how to code? Excellent, inspire us with your ideas. Every idea is welcome – doesn't matter how big, small, easy or complex it is!
Submit your idea
Submitting your idea is as simple as this:
1. Get informed about the topic of the contest. Read through the information provided on this page
2. Develop your idea!
3. Specify your idea: give your idea a clear title and explain it further.
4. Add further attachments to your idea (images, documents or videos)
5. Add Tags (optional)
6. Submit your idea
Evaluation Procedure
Evaluation of the submitted ideas is done by two parties: the community and the jury. As registered user you may evaluate ideas by assigning 1 to 5 stars to each of the following criteria:
• Effectiveness
• Creativity
• Implementability
With your evaluation you help to select the most valuable ideas. Beyond that, a jury board will select the winners for each topic.
Terms and Conditions
To be eligible to take part in the contest, submit ideas and win one of the great prizes, all you need to do is become a registered user and agree with the terms and conditions of the HYVE Innovation Community.